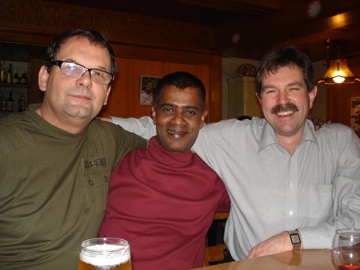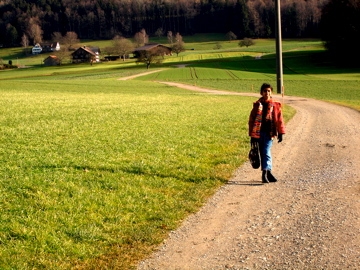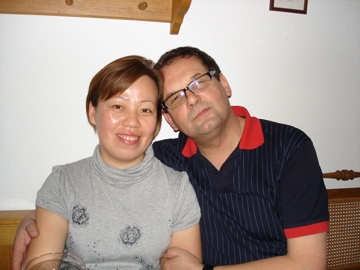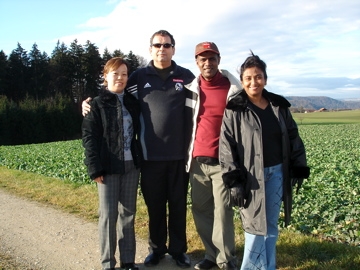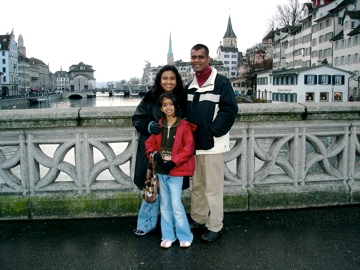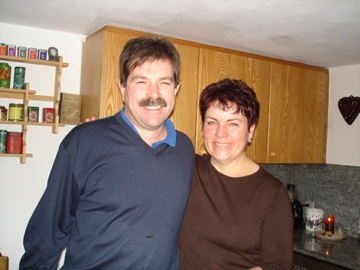 We were invited to Switzerland in January this year by our friend Hermann, to attend his wife Oki's swiss party. Monica, Stephanie and I traveled to Zürich, on Emirates EK087 on January 5th, 2007. Although we were holding 'SRC Firm' tickets, as they were actually not confirmed tickets, we were checked-in at only 45 minutes to the departure. The flight to Zürich was really an uneventful one which hasn't got much to write about! Well.. except of course, that Stephanie enjoyed her 'Chili Chicken' hot en tree during the meal service. We arrived in Zürich about 20 minutes behind the schedule and managed to clear immigration, baggage claim and customs very quite smoothly, without any hassle at all! Hermann was at the airport to receive us and drove us to Markus and Kaethy Kaegi's home at Winterthur. We met Oki there, who had no idea of that we were invited for her party - well, it was a surprise plan by Hermann. So she was really surprised to see us there! We were put up in Stephanie's - Markus & Kathy's daughter's room on the top floor of the some 100+ years old beautiful swiss home. Stephanie - Markus & Kaethy's daughter at the time was away from home traveling in India, so the whole room was for our selves for 3 nights!
We had Oki's swiss party on January the 6th at a hut on swiss mountains. Before we went to the hut around 7.30PM, all the guests were met at Markus & Kathy's home for a few glasses of good wine. Then we drove in convoy to the mountain and then we had 10 minutes walk to the hut on the top of the mountain. The hut was decorated so beautifully with swiss flags and tables were layed up with nice red table linen, napkins and cutlery. We had about some twenty guests present at the party. Wines were served followed by typical swiss supper - soup, ham and potatoes cooked by Hermann personally! Well.. I have to say, it was delicious! There was good swiss instrumental music and good dancing all night till about 2am the next day!
On the next day, Hermann drove us for a tour in the Zürich city. We drove through beautiful swiss country side and in the city, we took a walk around old swiss town, surrounded with nice old buildings. When we returned home, we had a couple of glasses of nice wine from Markus's cellar, followed up with a nice meal. As it was our last night in Zürich, after the dinner we had to pack our luggage in preparation of our travel next day back to Dubai.