I met Sumuk, when I was in Grade 5 in my  primary school - Carey College, Colombo, Sri Lanka. We were good friends in the Class and I remember, it was always either Sumuk or myself were the top in our class in our term tests. I also remember, like my mom, his mom too came to the school to pick us up everyday when we finished school. Then, in 1975, among other children in the Class, both of us did Scholarship Examination held for admission to much glamorous high schools in Sri Lanka - Royal College & Ananda College. We both got through our exams with flying colours and got an opportunity to select either one of those high schools. Sumuk selected Ananda College, whilst I opted for Royal College. 
Then it was after a couple of years I had  started my first job at then Air Lanka and I was still a young In-Flight Services Agent , one evening in 1985, during my night shift  to my pleasent surprise, I bumped into my good old friend - Sumuk who too had just joined the same company as a Flight Operations Assistant. I met him with one of his another buddies - Dilantha from the same school. Since we met again, friendship between Sumuk & myself grew and we used to catch up both at work and outside work.
I left Air Lanka & Sri Lanka in October 1991 to join Emirates, whilst Sumuk moved to the UK on a posting at London Heathrow Airport to work for Air Lanka as a Flight Operations Assistant. When he completed his posting and after moving back to Sri Lanka, Sumuk decided to take up a position with Emirates on 2 year contract basis.During his stay in Dubai we used to meet up quite often and talked about wide range of topics.  On completion he moved back to Sri Lanka to get married to Ruwanthi. 
Sumuk is now a permanent resident in Canada with his wife and the son. He has been living and working there since early 2000(s).  It was great that both Sumuk and I managed to catch up again a couple of years ago, when we had our family holidays  with my little sister in Canada in 2012.I think the photo below was taken soon after we finished a BBQ at my sister's place; perhaps that's why we both look a bit aged. Sumuk has always been a very intelligent, polite & decent gentleman and a fantastic friend indeed.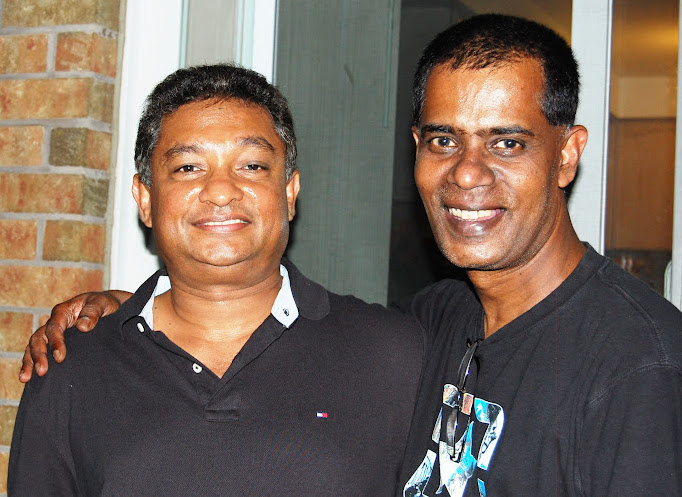 July,2012,Ontario,Canada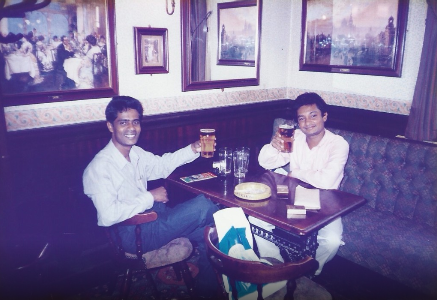 September, 1992, London Heathrow